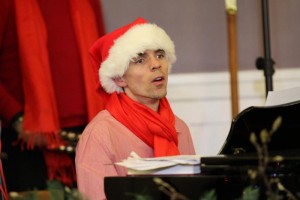 2005 – Present: Director, Pianist for "Voces de Alabanza" choir of Iglesia de la Comunidad Metropolitana de Los Ángeles, CA.
Here I am accompanying and directing one of our weekly services:
In this video I'm playing  in the style of "marimba" for our special service honoring el Milagroso Señor de Esquipulas:
I also perform solo pieces for our special events (weddings, funerals, etc.):
Accompanying Pepe Tenorino at our annual concert:
Accompanying Elsie Campos, La Soprano Mexicana, at our annual concert:
More videos of me directing and accompanying our weekly services:
2008 – Present: Performer/Remixer for songs4earth.org.
2012 – 2013: Music Co-Teacher at CAMP J.P.A.C. for kids with special needs.
2012 – Present: Musical Director/Accompanist for Los Angeles World A.I.D.S. Day "Unidos en Esperanza" sponsored by Bienestar.
2013: Band Conductor and Keyboardist for Teatro Nuevos Horizonte's production of "In The Heights" at Casa 0101 Theater:
Comments
comments